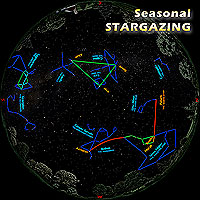 A classic planetarium "what's up in the night sky" presentation. 
Each Seasonal STARGAZING show highlights the most prominent and easy-to-find stars and constellations of the season. You will see and hear star names and constellations in a beautiful full-dome star map, and learn to star-hop for popular deep-sky objects. It's a great start on stargazing for audiences of all ages!

No entrance fee, free parking in Oxley lot, doors open 15 minutes before showtime. For safety reasons, no seating once IN USE lights are on, and no food or drink in the auditorium.